All new STM Small Radiator Kits for 2G DSM & Evo VIII-IX!
All new STM Small Radiator Kits for 2G DSM and Evo VIII-IX!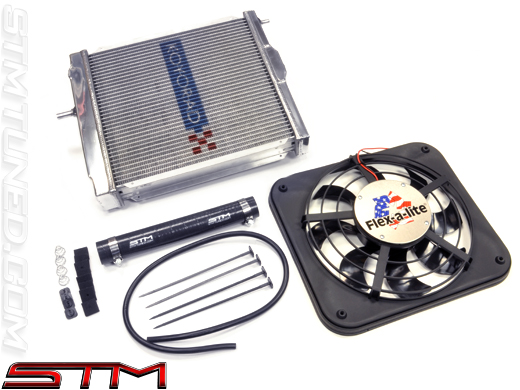 The new STM Small Radiator Kit is designed for those looking to lose excess weight for drag racing, or for those running the forward-facing style turbo kits. Features a modified Koyo radiator, FAL Fan, Mishimoto fan mounting kit, STM silicone hose and mounting hardware.
We don't recommend to regularly run these on the street... it certainly can be done, and we have done so for years, but if you're in hotter climates or a lot of traffic, there is always the potential for some issues. Please use your discretion and drive safely. This is intended for the drag car/ weekend warrior.
You will need to remove all A/C components!
Utilizes the factory lower radiator hose and mounting brackets.
Retail: $675 (+ $6 shipping)
Give us a call or order online:
STM Small Radiator Kit for 2G 95-99 DSM
STM Small Radiator Kit for Evo VIII-IX
In stock NOW!
585-226-8226
http://www.stmtuned.com
Please note... the Koyo's are different and will not be interchangeable between DSM and Evo.
Pictured above is the 2G, below, the VIII-IX.